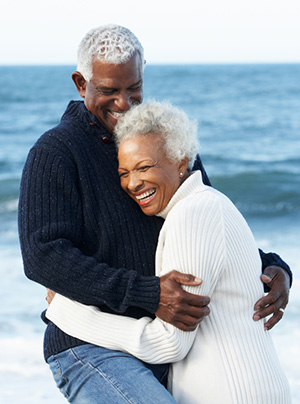 If you need to refurbish your smile, we welcome you to Center Point Dental in Payson, Arizona. Doctor Flaherty have earned the trust of their patients. They respect their patients and treat them to quality care.
Say Goodbye to the Frustrations of Missing Teeth
Dentures are removable replacement teeth for patients who have several missing teeth. Multiple missing teeth can lead to symptoms like:
Difficulty chewing.
Changed speech.
Reduced self-confidence.
Change in the shape of your face and mouth.
Bone deficit and dysfunction.
Change in your bite and TMJ pain.
Patients can avoid all of the problems associated with missing teeth and opt for full or partial dentures instead! Our dentists offer several well-fitted denture options for patients with varying needs.
What Makes Somebody a Good Candidate for Dentures?
Patients who are missing several teeth may be ideal candidates for dentures. Patients who have many damaged or decayed teeth may also qualify for dentures. Individuals with jawbone deterioration may be better suited to traditional dentures, while patients with sufficient jawbone volume may qualify for implant-supported dentures.
What Options Do I Have?
Traditional: Traditional dentures are the most affordable and convenient way to replace missing teeth. They form a seal with the gums or attach to remaining healthy teeth.
Custom: We also provide custom dentures, which are precisely personalized to your face and smile!
Implant-Supported: Implant-supported dentures eliminate all of the limitations of traditional dentures. Instead of resting on the gums, these dentures are stably anchored by dental implants that are placed into the jawbone. They support dentures and reduce bone loss.
All-on-4® Treatment Concept: We even offer the All-on-4® treatment concept, which allows patients to achieve a new smile in ONE day! Our dentists will strategically place four dental implants throughout the mouth to support an entire set of teeth! The All-on-4® treatment concept also eliminates denture movement and jawbone deterioration.
Which Denture Option Is Best for Me?
If you would like to learn more about your tooth replacement options, we would be happy to assist you. Contact our office and schedule a consultation with one of our experts. We can't wait to give you a full smile that you love!